Prairie Du Rocher



Saturday June 6th, 2015 (Groups not camping with us will want to at 8:00am.) This activity is different from almost any other campout. We spend the night at Camp Vandevender. Then On Saturday we visit the Fort de Chartres. Famous for the French and Indian War, this massive fortress built by the French in the Early 1700's. Its walls are 15 feet high and 3 feet thick and enclose approximately four acres.

There is a huge celebration this weekend. It is the 42nd Rendezvous --- One of the largest in the country. 18th century crafts, military units drilling, fife and drum corps playing, traders, and lots of re-enactors, food, music and hundreds of historically dressed participants. The competitions include flintlock, rifle, musket, and cannon and mortar.

Parking is around $5. IMPORTATNT: The *VERY* IMPRESSIVE opening ceremony is at 10am. This is the best part of the day and you do not want to be late! A full Uniform is REQUIRED on Saturday and some spending money may be desired to buy souvenirs. And bring a sack lunch! Parents would also enjoy coming down for the day. Know who you are riding with before showing up!

PLEASE wear your Full Scout uniform in the morning, if it is too hot then we will allow Class B in the afernoon.

Fort de Chartres Site #1
Fort de Chartres Site #2

Map to Fort Chartres:618-284-7230 1350 State Route 155 Prairie Du Rchr, IL 62277, US
The way I am used to going is once you are in Illinois, to take Route 3 South from I-255. About 22 miles, just before you get to Red Bud make a right turn on Ames Rd. Ames Rd deads ends into Rt 155 where you make a Right turn and follow into Prarie Du Rocher. The actual Fort is past the town near the river. However Mapquest 'might' be showing a little faster route that avoids the town.

---
Prarrie Du Rocher
Camp Vandeventer



We will be Camping for the Prarrie Du Rocher Campout June 5-7 2015. The partols need to handle the transportation completely (both coming and going). All meals need to be EASY to prepare meals and Lunch must be cold.

We are going to Camp Vandeventer near Waterloo Illinois. this map will get you to Waterloo Ill. Switching to this map , After reaching Waterloo proceede West on route 156 for approximately 2 1/2 miles. You will pass the fairgrounds on your right, and go down into a valley were you will cross Fountain Creek. Just before you crest the top of the next hill there will be a road to the right (Camp Road). Follow Camp Road for approxi- mately 1/2 miles and watch for a rock road turning off to the right and a small red sign that says Camp Vandeventer. From here it is about 0.8 miles to the camp. Please use caution, the rock road leading to the camp is narrow and many corners are blind.

For those interested a map inside of the Camp is here
If a partol is only buying food for 2-3 scouts then they need find out WHY! Pickup on Sunday will be the usually 10am. It will take a little over an hour to drive.


---
Titus Wenholz 77th Eagle!

Congratulations to Titus Wenholz who passed his final Board of Review on June 5, 2014 and he officially became our 77th Eagle Scout! Titus will be recognized at an Eagle Ct of Honor held this Fall



---
Matt Holmes 76th Eagle!

Matt passed his final Board of Review on April 12, 2014 and he officially became our 76th Eagle Scout! Matt will be recognized at an Eagle Ct of Honor to be held July 13, 2014



---
Mr. Wilbur Retires as Scoutmaster

On Tuesday, September 27th of 2011, Mr. Mark Wilbur stepped down from his position of Troop 374's Scoutmaster. He had a great 25 year run and although he has stepped down, he will still be with the troop. As we thank him for his many years we start to turn to the new Scoutmaster, Nick Kobel. Mr. Wilbur did an amazing job and he was a great support for all people that have been in his life. To read his final Scoutmasters Minute read Spetember 27, 2011 Click Here

The troop is planning a Celebration of 25 years on Sunday December 11th, 2011 from approximately 1pm to 5pm. Please RSVP the NEW Scoutmaster (Mr. Kobel) if you wish to attend.



---
Brad Farley 72nd Eagle!

Brad passed his final Board of Review on August 10, 2008 and he officially became our 72nd Eagle Scout! Brad was recognized at an Eagle Ct of Honor held on Saturday October 18th



---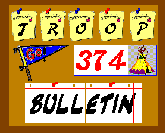 Submissions
to Web Page





!!!! Please HELP !!!!


I need your assistance to keep our webpage up to date! If you have a news article, update or a brief summary of the next event. Or would just like help with a summary of the last event... Please submit it to me via e-mail. Click here Maintaining this page is a lot of work and there is no reason why you cannot help!

---
Buy Sell Or Trade?



Click Here to see what we have.

---
"Members Only" Area



A "Members Only" area is now available. Members must fill out form providing useful information or you cannot be e-mailed back with the approval.
Login Here or sign-up!



Members Only Area was last
updated on: 5/21/2012



---
Requirements Change for Free High Adventure Trip



Troop 374 has a unique to program that we pride ourselves on: All new Eagle Scouts are eligible for a High Adventure scholarship program that we award to Scouts that earn their Eagle rank. Very few units offer such an opportunity! There MAY be a $400.00 cap efective for all new Eagles after September 1st, 2007. We have been forced to update the requirements to read: To qualify for the free high adventure trip, the rank of Eagle must be earned BEFORE their 17th birthday and there can be NO "emergency" board of reviews! The minium requirements state that you must be Life for at least 6 months to get Eagle. But it is rare for someone to complete it in less than a year. So, to get your free trip you should earn "Life" before you reach age 16! Lastly, to prevent scouts from transfering into our troop just to get the free trip, you must serve an *elected* leadership position with 374 and must also be active in our unit for at least one year to be eligible.

---
Discussion Forum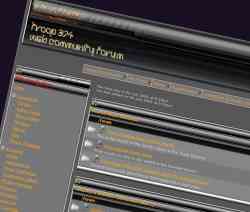 The BLOG is GONE! See the Members only area for a login to the new forum. (Or just remember the shortcut)


---
Merit Badge dot Com


Meritbadge.com is apparently back up, up to date and working! US Scouting is still avaliable for the merit badge research too!

---
How do I earn a Merit Badge?



Check out the new section called: How do I earn a Merit Badge?

---
Good Grades vs. Scouting



Here is a collection of e-mails about the delima many parents face between keeping good grades at school and participating in Scouting. Click Here to see what others have to say.

---
Countdown to Summer Camp






2015 Summer Camp Dates



The MOST IMPORTANT camp out for the Troop is Summer Camp!!! 2015 UPDATE! We will be attending Camp Famous Eagle the week of June 28th to the July 4th, 2015. We have Campsite Backer. This is the third week of camp. The cost for 2015 Camp will be $260 (by June 1) ($240 if paid before February 25th) ADULTS: The fee for adults is only $80. The troop helps Parents to attend and only charges $60 for them to attend camp. Fully uniformed leaders are charged $40. ALL adults attending camp must fill out an adult application for a background check and must also complete the Youth Protection Training online. Submit your vacation schedule as soon as you can. The more adults that attend, the more fun it becomes! You may chose to only attend for half a week. It may be possible to split the cost with another adult. Sunday to Wednesday is always the hardest for us to fill!!!

You must use the Latest physical form click here. ALL PARTICIPANTS MUST have a new physical EVERY year!

As already stated; Summer Camp is the most important activity all year. It is critical that every Scout attends. When someone misses a year at camp it will severely impact his ability to 'keep up' his advancement with the other Scouts his same age! In addition it can eliminate him from becoming an OA member the following year. And in addition, to earn the Camping Award, we are GRADED on what percentage of our scouts attend camp! Summer Camp gives the boys a week of non-stop Scouting experiences. They will get to fellowship with hundreds of other Scouts, work on Merit Badges, swim, hike, shoot, boat, skits, campfires and build upon the Scout Oath and Law. They will make fond memories that will last a lifetime!

Refunds are almost never available!

---
Can't Afford
Summer Camp?



The camp fee can be such a strain on a family that sometimes it is easier to just decide to not go to camp. We have at least two fundraisers every year just for you! However, sometimes this is not enfough. For those cases, we DO have financial assistance available in the form of a "Campership". Camperships can pay as much as 50% of the fee! If you know of anyone needing this assistance or YOU need this help... Please let Mr. Wilbur or Mr Wenholz know and they can assist you in getting the paperwork.. Or it can be downloaded here: http://stlbsa.org/wp-content/uploads/2014/06/2015-Campership-Application.pdf Camperships are first come first serve so an early submission increases your chances and should be made by MID MARCH!.
All requests are confidential!!!


---
Chris N. 75th Eagle!

On July 14, 2013 Chris N. passed his final Board of Review and he officially became our 75th Eagle Scout! Chris's Eagle Ct of Honor Date has not been set but will probably be sometime this fall.



---
Chris Rawlings 74th Eagle!

On December 13, 2009 Chris R. passed his final Board of Review and he officially became our 74th Eagle Scout! Chris's Eagle Ct of Honor that was held on March 21st, 2010.



---
Nick Hedlesky 73rd Eagle!

Nick passed his final Board of Review on March 8, 2009 and he officially became our 73rd Eagle Scout! Nick has not yet set a date for his Eagle Ct of Honor but all Scouts and friends of the family will be welcome to attend!



---
James Caspari 71st Eagle!

James passed his final Board of Review on March 9, 2008 and he officially became our 71st Eagle Scout! James was publicly recognized his Eagle Ct of Honor that was held on May 27th 2008.



---
Nathan Mueller 70th Eagle!

Nathan passed his final Board of Review on January 13, 2008 and he officially became our 70th Eagle Scout! Nathan was recognized at an Eagle Ct of Honor on April 27th, 2008.



---